All boats except the SD430 come with 1 seat bench. All boats come with a hand pump, repair kit, carry bag, aluminum oars, 4′ rope and either an air or plywood floor.
Optional accessories:
Boat cover
Shelter your inflatable Dinghy or KaBoat from rain, sun and dirt. Our PVC heavy-duty boat covers offer excellent durability, superior stain, water, mildew and UV resistance, and won't shrink or stretch like many canvas covers.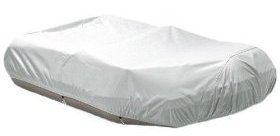 Fits Most brands and models of Inflatable boats: Zodiac, Avon, Achilles, West Marine, Saturn, Mercury, Baltic, etc. Comes with a rubber cord around the bottom of the cover for a perfect fit. Just pull on the cord to create proper tension. It can be transported on a trailer or towed behind a boat with additional fastening by bungee cord or extra rope.
If you are planning to keep the boat inflated, a cover is a must in order to protect your investment and prolong the lifespan of your boat.
Under seat storage bag with cushion
Easy to install, under-seat storage bags with over the seat deluxe cushions not only provide a convenient storage place, but also protect your most valuable assets from being bumped on choppy water by a hard-surface boat bench!
A soft cushion is not a luxury, but a necessity if you really want to enjoy your dingy. Makes excellent use of the space underneath the bench seat and provides a softer ride.
The under-seat storage bag is attached to the cushion with two zippers, and can be easily removed if you don't want to leave your valuables behind. When the storage bag is removed, the cushion stays attached to the seat with Velcro straps.
New Design storage bag now comes with over the shoulder strap for convenient transportation while ashore. It also has 3 large storage pouches with Velcro locks and 2 bottle holders. New cushions with bags are manufacturer in non-marking black color, and made of heavy-duty, splash-resistant 600 denier polyester.
http://www.boatstogo.com/faq.asp#13